An Overview of Prefabricated Data Centers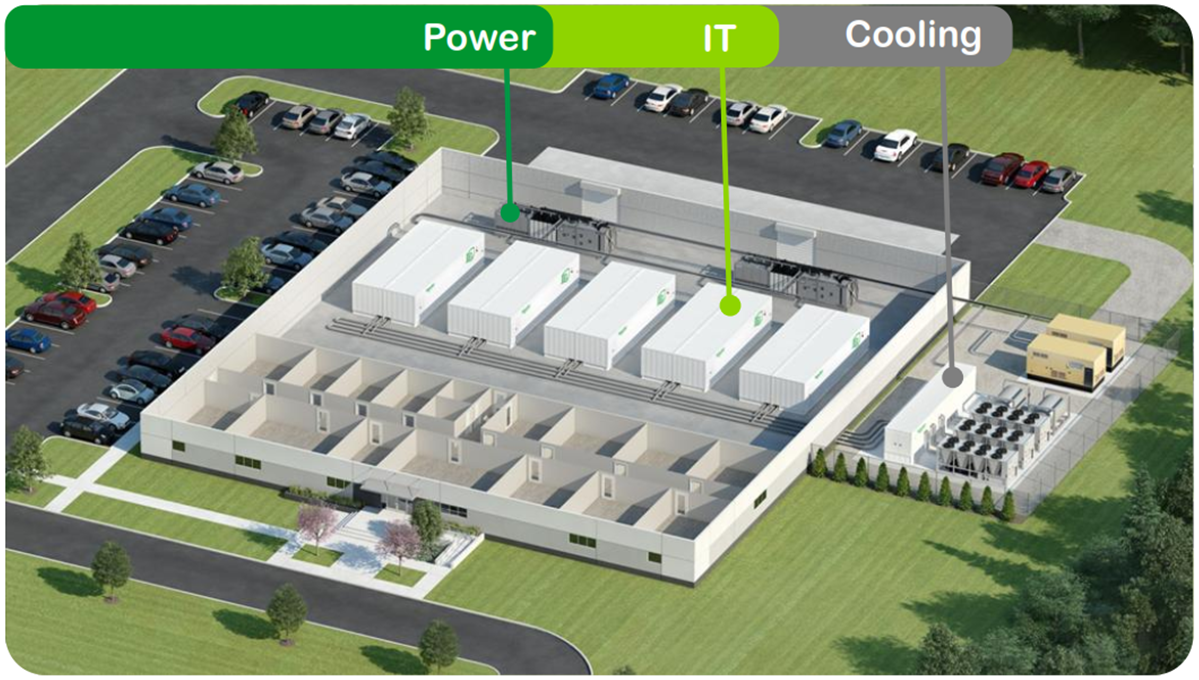 Whether you are an enterprise, colocation, edge, or cloud data center, the ideal data center deployment mix balances the speed of deployment, the cost of operation, and the performance of the data center. This article looks at how prefabricated data centers fit into the picture.
In-row cooling
Compared to traditional perimeter cooling systems, in-row cooling offers significant energy savings. It also improves performance and resilience. It may be applied in various settings, including labs and data centers.
Row-based cooling has more clear airflow paths, enabling better efficiency. It can also help reduce fan power. It's also a more cost-effective solution since it doesn't require raised flooring.
In-row cooling can be installed in a closed-aisle containment enclosure or suspended above server racks. Depending on the model, it may include a refrigerant, a fan, or both. The unit may have a base skid, brush access top cover, or swing handle lockable front and rear doors. The cool air is drawn back from the shelves and directed directly beside the IT equipment.
In-row cooling is ideal for high-density environments. It improves efficiency and capacity for a single rack or an entire data center. It can also be used to supplement room-based cooling.
In-row cooling also enables modular expansion. It can increase the number of servers in a row without impacting the overall efficiency. It can also improve efficiency, increase capacity, and reduce energy costs. It's an economical choice for mission-critical servers.
In-row cooling is ideal for highly dense environments, such as power-hungry GPU clusters. It's also a perfect solution for prefabricated data center modules that are expanding or repurposing. It can also improve predictability and resilience. It's more efficient than conventional perimeter cooling, which can lead to hotspots and overheating.
In-row cooling is also compatible with chill water cooling systems. It enables higher cooling accuracy. Since the devices may interact with one another, hot zones are eliminated. Additionally, the devices are made to utilize less power.
In-row cooling is often used in modular data centers. It's also a good fit for high-density data centers with a raised floor.
Optimal mix of deployment speed, cost, and performance
Traditionally, data centers were assembled by one machine for one application. Today, enterprises are migrating most of their workloads to the cloud. The result is a plethora of redundant systems. Companies are starting to use intelligent operations management to meet their demands. Fortunately, there is a solution. Specifically, modular data centers offer the best of both worlds. Typically, you'll find a modern facility where you can configure your servers within a few weeks.
Modular data centers are produced in prefabrication to make your life easier. It makes for a lean and means server room and a lot less construction cost. The same facilities also boast high energy efficiency. It is essential in an age when the cloud is king. Keeping up with the competition can be challenging, and supply chain issues can slow things down. A savvy data center manager will make sure that the best vendors are brought on board. It allows for a more collaborative environment that benefits both sides of the ledger. Moreover, the benefits of virtualization are more palatable to IT and business executives.
You'll want to invest in an intelligent operations management system to ensure that your data center is on par with the rest of the pack. It will allow you to leverage modern, cloud-based tools to monitor, manage and optimize your data center. Ultimately, you'll save on operational costs and gain access to the latest tools for the job. And, of course, you'll have a better chance of acquiring your desired customer base. It can all be done using IoT (Internet of Things) technology. The Internet of Things, if properly implemented, will help to improve the bottom line while allowing you to serve your customers better.
Ideal for enterprise, colocation, edge, and cloud data centers
Keeping pace with the fast-paced digital world requires an efficient solution for your IT infrastructure. The data centers offered by ABB modular systems solutions provide intelligent technology and ensure high levels of reliability and safety.
Edge and cloud data centers are decentralized facilities that store, process, and deliver computing and storage closer to end users, improving speed and security. They can be deployed in a variety of locations and environments.
Edge and cloud data centers have evolved to support low-latency applications, such as video streaming, Internet of Things (IoT) devices, and artificial intelligence. They also enable more secure transfers of customer data.
Colocation centers are similar to edge data centers. They are smaller, decentralized facilities that store and process data closer to end users. They are often deployed at central telecommunications offices, cable headends, and cell towers.
These facilities provide security, connectivity, and environmental controls to companies. They are also designed to provide a step between on-premise and cloud computing.
Edge and cloud data centers are designed to improve performance and security and can also be scaled to meet changing user needs. They provide access to a critical mass of Internet services.
The scalability and flexibility of cloud data centers allow for rapid deployment, resulting in less CAPEX than colocation. They also offer flexible payment models and virtualized IT infrastructure. They are ideal for businesses that require short-term computing power.
Depending on the application and geographic need, edge and cloud data centers are targeted at specific markets. In addition to providing greater security, they allow for low latency, high bandwidth, and faster data processing. They are also used for delivering high-demand content to local users.
A cloud-based solution allows for various management styles and will enable companies to choose the most appropriate solution for their business. The cloud has become a popular option for storing and delivering data, but more is needed to provide complete control over the physical IT infrastructure.