Best Bathroom Wall Options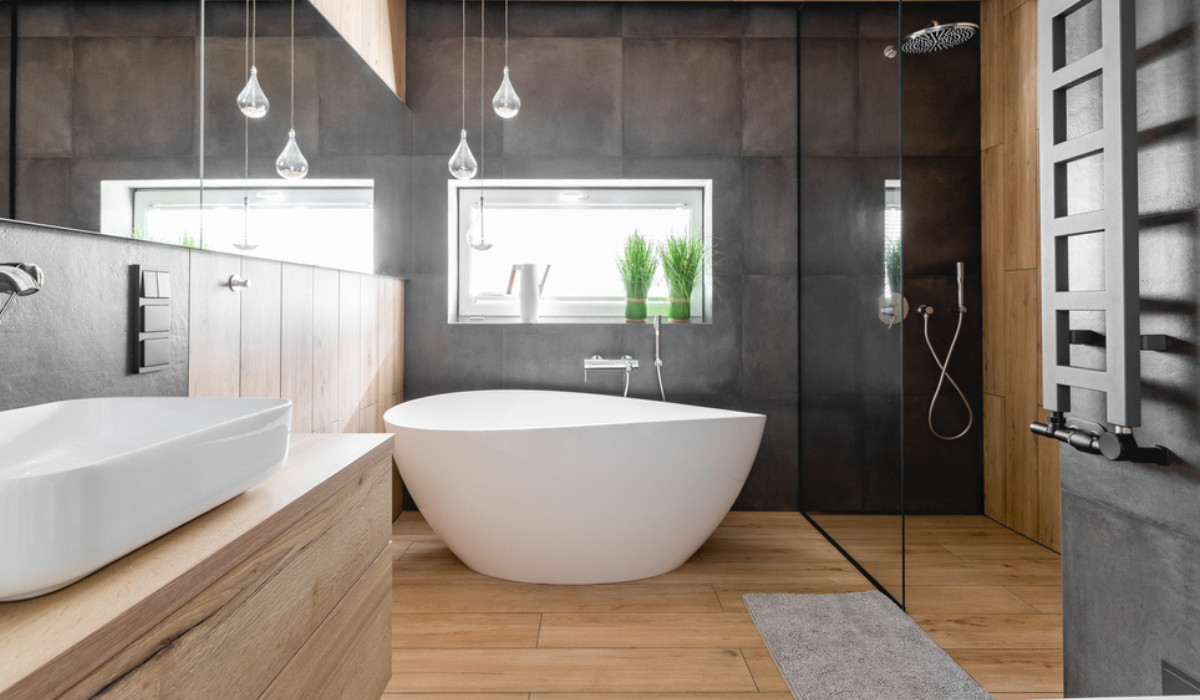 Designing your bathroom can prove to be a little more challenging than you expected it. There are lots of elements that require your attention. One of the crucial elements of your bathroom is the walls. Many people ignore it thinking it is a trivial part of the bathroom. However, they hugely influence the overall look and functionality of the bathroom design. Also, the wall of your bathroom is more crucial than the other rooms. This is because a lot of water is used in the bathroom. Moisture can damage the walls and ruin their look. You will have to choose the right material that will not only protect the walls but also enhance that aesthetic beauty. If you are not sure about the material, here are a few options you can consider:
01 of 04 Wallpapers for your bathroom walls
One of the most popular materials used for bathroom walls is wallpaper. Although wallpapers were considered outdated a decade ago, they have gained immense popularity once again in the last few years. And, there is a good reason behind it too. Modern wallpapers are available in many designs, colours, and patterns. You can easily find an option that aligns with your taste and bathroom design. Lots of customisations are available as well. You can get designs made as per your instructions. This makes it possible for people to create their dream bathroom. Moreover, you can get waterproof wallpapers that will not be affected by moisture or humidity. As a result, the wall behind it will stay protected. They are also easy to remove and install. In case you get bored with your current design, you can replace it with another option without spending a lot of time and effort. You should look for wallpaper designs that feature elements of nature. Floral options are great for giving your bathroom an interesting design. For an elegant look, you can choose wallpapers that feature stone or wood.
02 of 04 Wood panelling for your bathroom walls
It may not be the first option that comes to mind while designing spaces like a bathroom but you can consider wood. The reason behind it is quite obvious. Wood gets damaged by moisture easily. However, you will not have to worry about installing modern wood panelling on your bathroom walls. This is because many modern wood panelling options are water-resistant. They will stay unaffected in the humid environment. Also, wood has a warm and inviting look. You can make your bathroom design more elegant by adding wood elements.
The only issue with wood is that the material is quite expensive. You should avoid it if you are looking for budget-friendly options. Also, wood will require more maintenance than other options.
03 of 04 Tiles for your bathroom walls
The most popular material for bathroom wall decoration ideas is tiles. You will find this material in most traditional and modern bathroom interior designs. There are plenty of reasons behind its popularity. The biggest benefit is that tiles are budget-friendly. You can find them at a very low cost. Moreover, you do not have to invest a lot for the installation. They can be easily installed without putting in a lot of effort. You do not have to worry about maintenance as well. Tiles are easy to clean and do not damage easily. Also, the material is water-resistant and will keep the walls protected. The wide range of designs is a big reason behind its huge popularity as well. You can find tiles in many sizes, shapes, designs, colours, etc. This allows people to give the bathroom wall decor idea any design they wish. Further, you can find tiles that mimic the look of other materials. Therefore, you can give the bathroom any look you want without spending a lot of money. Tiles that mimic the look of wood and marble are very popularly used in bathrooms.
04 of 04 Mosaic for your bathroom wallsMosaic has been used in home interiors for a long time. It has a timeless appeal and will not get outdated anytime soon. You can consider mosaic for your bathroom walls as well. It will give your bathroom interiors a very stylish and elegant look. A mosaic wall adds more drama and visual interest to a space. Also, you can find it in many different colours to give the bathroom design any look you want. Just make sure that you do not choose the material randomly. It is available in many interesting options like glass, porcelain, stoneware, and even natural stone. Choose an option that complements the rest of the materials in the bathroom interior design