How to Bring Business Process Management to Your Business – The Complete Guide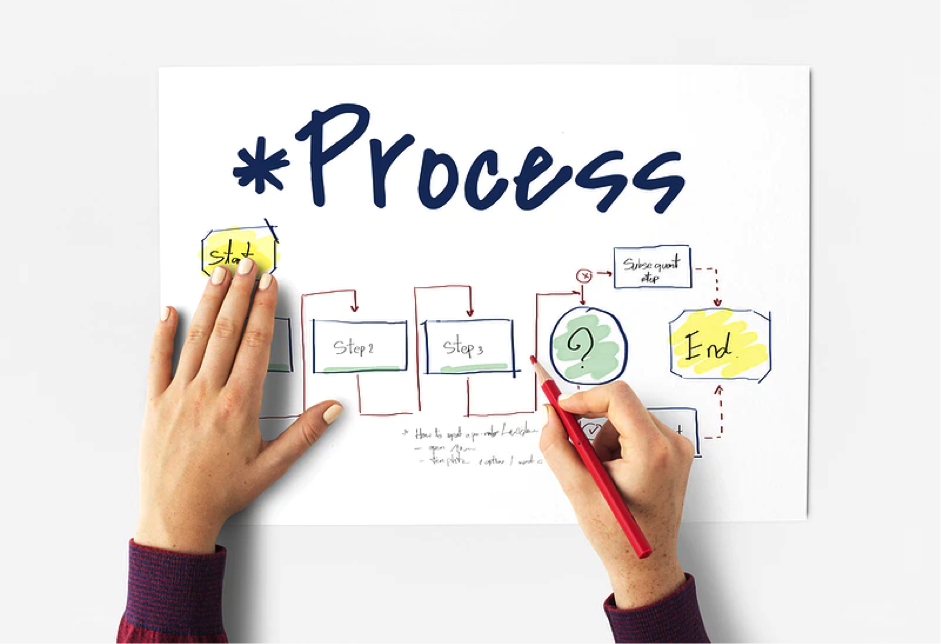 To begin with, business process management is an organized approach to designing, analyzing, implementing, monitoring, and improving the business processes that organizations use to accomplish their goals. Business process management also called BPM involves the use of tools and technologies to manage and optimize the flow of work within an organization. The goal of BPM is to increase efficiency, reduce costs, improve quality, and enhance customer service.
Does your organization really need business process management services? If you face any or all of the below challenges, then it's time for you.
Here are some surefire signs that an enterprise needs BPM consulting services.
Lack of visibility: Consider you are in the financial service business. Visibility becomes especially important with any process that involves numbers – be it cash flows, auditing, financial reporting, etc. You would want to identify the bottlenecks, find areas of improvement and provide quality services to your customers.
Making data-driven decisions: To make a better decision, if you are finding it challenging to collate data from multiple sources, identify the KPIs, generate real-time reports, automate tasks, and routing decision-making authority to the right people, enabling cross-functional collaboration, then it is time for a technology revamp with BPM software.
Delays in completing tasks and goals: If you find your teams getting caught up in a sea of repetitive or mind-numbing tasks, chances are other priority things may get impacted. This may lead to less productivity and inefficiencies to achieve the set targets. If the organization is in need of a framework for analyzing, designing, implementing, monitoring, and controlling business processes and utilizing workflow software like RPA and ML to automate tasks, then BPM is the right fit.
Legacy applications take the center stage: Too many spreadsheets, lots of core data stuck up in legacy systems, volumes of email communications, sifting through papers for key documents, and other old-school ways of operation indicate the need for a business process management system in your organization. Also, using disparate systems for each department puts the organization at an additional burden to maintain and modify.
How to implement business process management software
Implementing BPM requires six main steps. Let's take a look at it with an example of a common process – invoice processing.
Perform process discovery and analysis: As a first step you identify the current processes in the organization. You can do this by mapping out the steps involved in each process, identifying the bottlenecks, and determining their impact. In invoice processing, detecting frauds, human errors related to data, and verification of details such as invoice number, cost, discounts, time for invoicing, etc are some of the things to understand and consider.
Design/model processes: Now that you have understood the process from start to finish and have identified the inefficiencies, the next step would be to design new, improved processes or model them. You can choose to streamline the workflow, automate repetitive tasks and incorporate technologies such as RPA wherever appropriate.
Implement: Next it is time for action! You implement the newly designed process. You can establish the metrics to evaluate the process, create policies and procedures around it, train the employees with strategic change management, set up and configure the technology.
Monitor and Control: Are these processes running smoothly? How well BPM is solving the problems? Are the teams use it effectively? These are some questions that should be answered. Regular reviews of metrics should enable teams to proactively solve issues and make the necessary adjustments.
Optimize: BPM is an ongoing process. Once deployed, it has to be monitored continuously to scale up to meet the changing demands of the organization. And this is where automation technologies come into the picture. Using Machine learning (ML) to optimize processes and gather insights to improve efficiency.
Ask for feedback: Upon successful implementation, ensure to involve all the stakeholders, partners, and customers to collate suggestions. This also ensures everybody in the team is on the same page and that any necessary changes or updates are communicated effectively.
What are the benefits of business process management?
Improved efficiency: Business process management allows organizations to streamline their processes and eliminate inefficiencies, which can lead to faster and more accurate completion of tasks, improved productivity, and cost savings 
Better visibility and control: You get a centralized view of business processes, enabling managers to easily monitor and control the performance of processes in real-time.
Increased agility: As you can model the process, choose to automate, gain real-time data on the performance, and optimize the process, you can quickly adapt to the changing market conditions.
Enhanced collaboration: BPM software manages the flow of tasks and information between different teams and stakeholders, which can help improve collaboration. For instance, in the current remote and hybrid work models, the employee onboarding process has changed significantly. In the globally dispersed work environment, automation of tasks, digital forms, etc. have certainly boosted the productivity of the HR teams in addition to helping them build a strong company culture.
Better compliance: Compliance refers to adhering to rules, industry regulations, and standards. BPM automates all compliance related processes. BPM can help organizations comply with industry regulations and standards by automating compliance-related processes and providing real-time visibility into process performance.
How to choose your BPM vendor?
Now that you have got an idea about implementing a business process management system in your organization, here are some tips to consider before selecting the right BPM software.
Scalability: A scalable solution allows the organization to start small and grow as needed, without having to replace it. For instance, if you are starting with 100 processes and 200 users, and gradually if there are thousands of processes in 3 years or so, the software may start behaving differently. The BPM solution should be able to handle peak loads and unexpected spikes in usage without crashing.
Integration: Integration feature is one of the most important aspects, as business process management is all about seamless communication and collaboration between different departments and technologies. For example, integration with the CRM system allows BPM software to access customer information and use it to trigger actions and tasks within the BPM software. Integration with the ERP system allows the BPM to access inventory and financial data to make decisions about processes such as purchasing or inventory management. It allows the software to be more flexible and adaptable and enables access to new data and functionality to improve processes and decision-making.
Customization: You would want to tailor the solution to meet the unique needs of your organization with respect to processes, workflows, and business rules, which may not be covered by an off-the-shelf BPM solution. Hence BPM system should be flexible enough to make adjustments. Whether you want to include a specific type of report, data validation, alter user interface, business rules for escalations, scheduling approvals, etc, the BPM tool must let users customize it for every step of the process.
Support: What kind of support will the vendor provide? How will the issues be resolved and what are the timelines? What about the training for users? What are the training programs like? Before signing the deal, try to get answers to all these questions and plan the framework. Most importantly, proper training helps your users understand the capabilities of the software and how to use it effectively, which can improve efficiency, productivity, and overall performance. It can make the employees feel comfortable and confident with the new technology. Proactive support through different channels is essential to minimize disruptions and downtime.
Pricing: Compare prices and features of different vendors to find the one that offers the best value to your organization. Keep in mind some of the factors such as the number of users, the complexity of workflows, functionalities, support and maintenance, integrations, scalability, and deployment method determine the cost of BPM software.