Pocha Experience with JINRO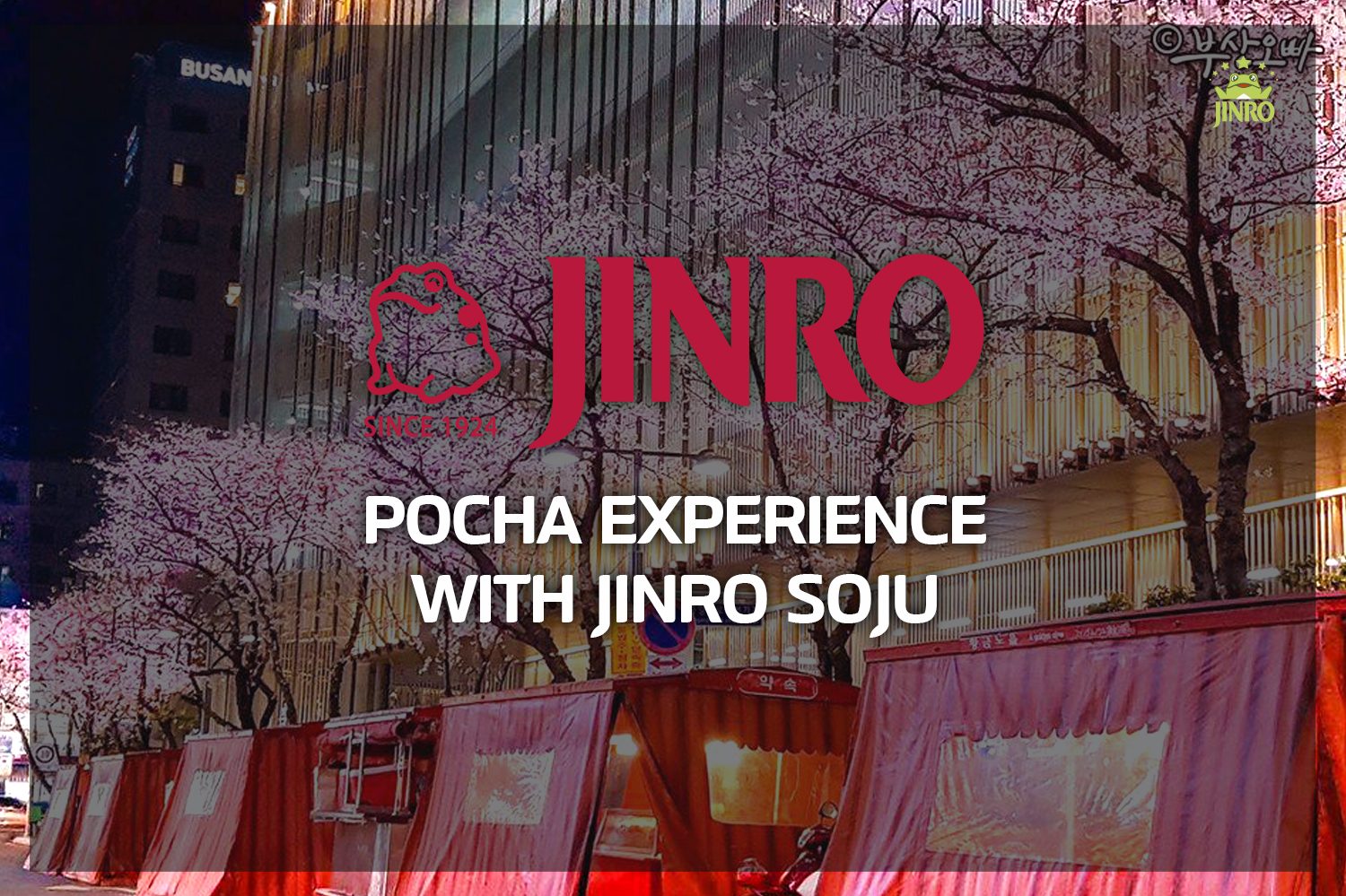 Pocha is a very important part of Korean drinking culture. You can see it almost on every popular street in Korea and your favorite drama. In this article, you can read more about its romantic drinking place and learn how to create a unique pocha experience with JINRO at home.
What is Korean Pocha?
Pojang-macha or pocha is a concept of a wheel restaurant or, in other words, a movable bar, that was born in South Korea. Dining in a pocha is strongly connected to drinking and as a fan of JINRO soju, I have always been curious about it.
The first pochas appeared in the early 50s around the Cheonggyecheon area and were so different from the modern analogs we see on Seoul's streets nowadays.
Initially, only small carts or motorbikes sold snacks and alcoholic drinks, including JINRO soju. Later, some owners of pocha began to cover their carts with an orange tarp, provide stools to sit on, and sell a wider choice of side dishes and snacks called Anju in Korean. They did so to attract more visitors.
Eventually, an orange tent with a small cart, tables, and a handful of stools to sit on became a signature feature of the pocha together with a green bottle of JINRO. Habitually, pochas are open till very late at night, so it's usually the most crowded after midnight. Koreans prefer to visit a few places, while parting, like a pub crawl, so they leave the most fun pocha experience as the last stop.
Why drinking soju in pocha is so special?
If you like Korean dramas, you probably understand the importance of pocha to Korean people. Because you might have seen several dramas where the main characters sit together to drink and have a heartwarming conversation. They often go there after work or on weekends to hang out with friends, celebrate, or drown their sorrows in a bottle of soju.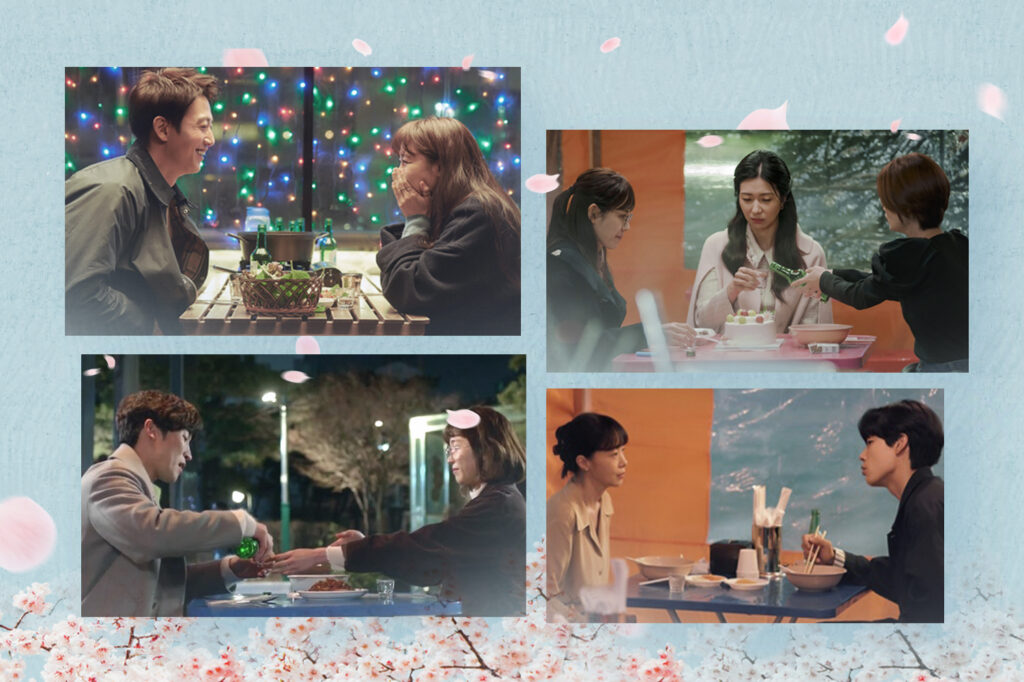 But what makes pocha so special? Initially, the cozy atmosphere puts you in a perfect mood to drink and talk. The concept of pocha is very simple; no one worries about how you look or behave, so you can just be yourself and enjoy your time.
Additionally, it is because of food. Pocha owners sell cheap but very delicious Anju, featuring traditional Korean food such as gimbap, tteokbokki, and sundae, which is an all-time favorite not only for Koreans, but also for foreigners.
Recently, many pochas started to specialize in a specific dish, like stews or barbecue. I already wrote many articles about perfect food combinations for JINRO soju, for example (give examples with links). So you can look for those food choices at pochas around the streets.
The most famous pocha street in Seoul is Mapo Pocha Street. It is located nearby Mapo Station Exit 2. This street gives out Korean drama vibes due to its cozy atmosphere: cute red tents with bright lights are located side by side in the shadow of gorgeous trees, the smell of delicious food seduces newcomers, and the sound of happy voices of the slightly drunk customers are heard all over the place.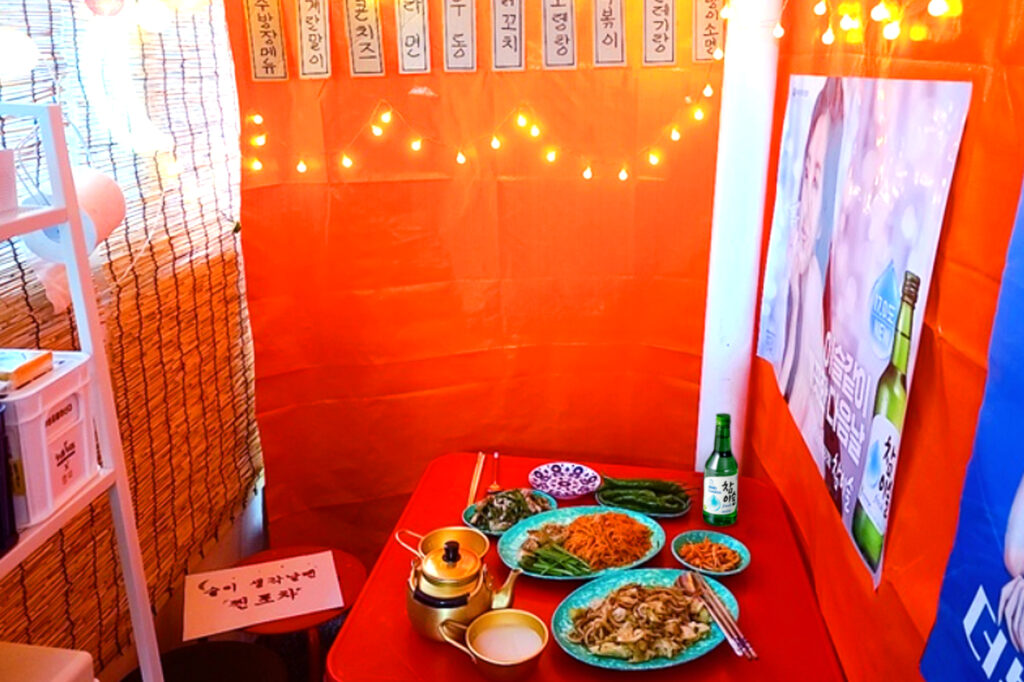 Other famous streets where you can find pochas and taste JINRO are Yeongdeungpo, Jongro 3-ga, Gangbyeon and Euljiro 3-ga. If you are traveling to Seoul, try to visit one of those locations for the truly Korean experience. And, of course, don't forget to order JINRO soju.
Enjoy pocha experience at home with Jinro!
If you are already curious about pocha, but are not located in Korea, don't get too upset. You can create a pocha experience with JINRO at home. How to do it? Very simple. You just need to follow a few simple steps.
The most important part is JINRO soju! JINRO has clear and refreshing tastes. You can easily buy it in the Philippines in stores and online! You can find a perfect flavor of JINRO from the original one to a fruit taste, like peach or green grapes.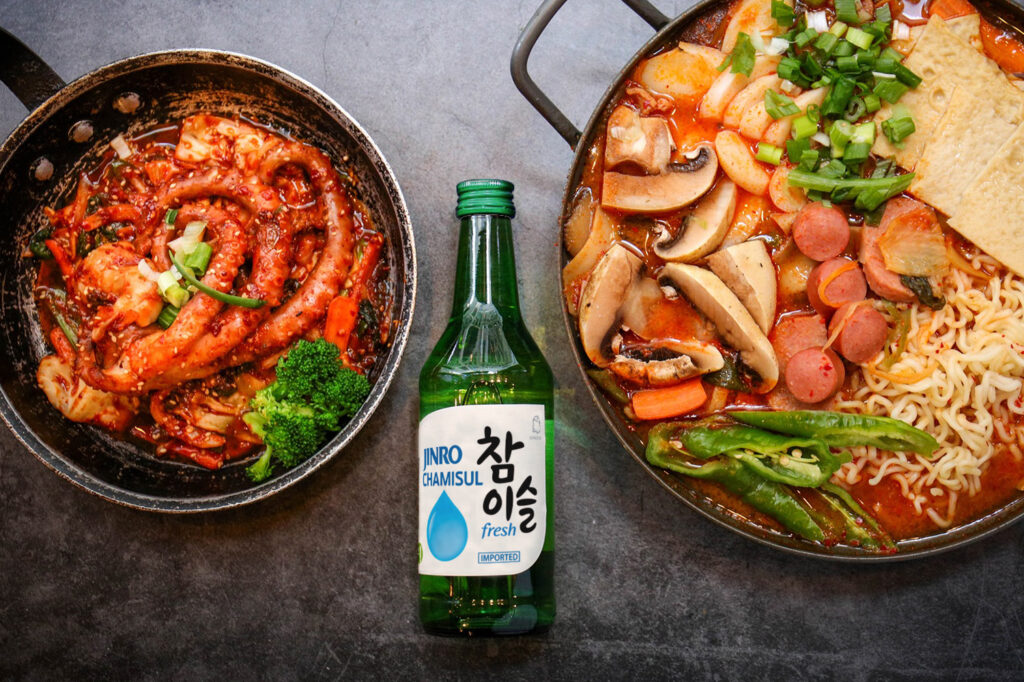 You can order the famous orange tent and other decorative attributes online! Anything orange that you can hang on the wall would be okay. Pocha is famous for its street-style decor, so you can find decorative objects at home, like disposable tableware, garlands, and lanterns.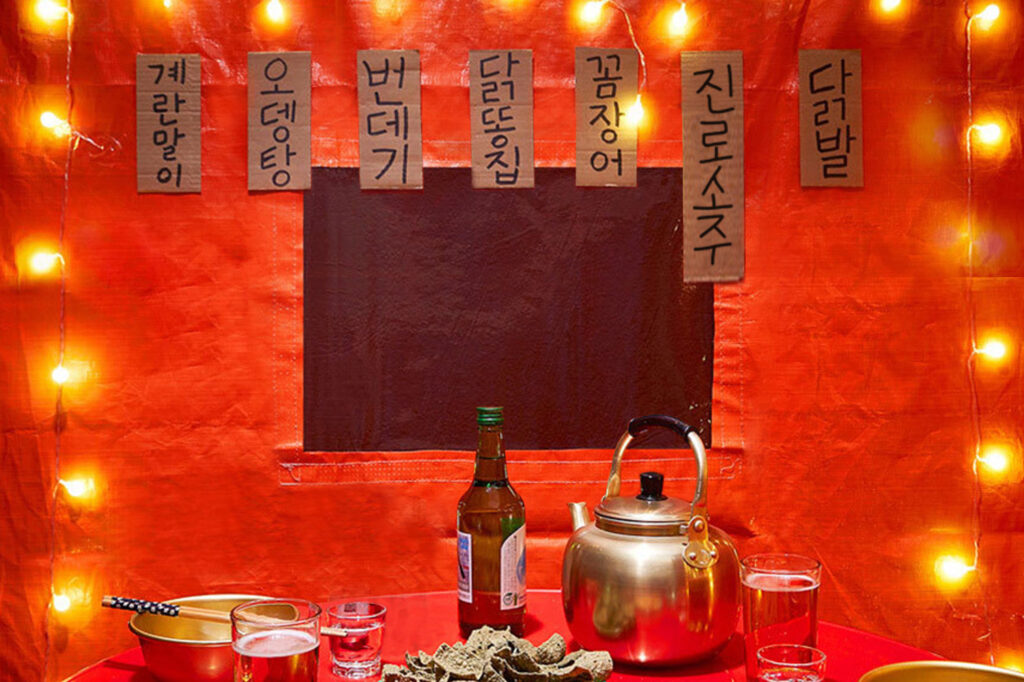 Prepare food! As well as JINRO, food is an important part of pocha experience. Some examples of traditional pocha food are Anjus (side dishes and snacks), sundae (sausage), and fish cake soup. You don't need to cook; you can also order delivery or buy snacks at the supermarket.
If you're going to organize a pocha party at home, here are some rules of Korean drinking etiquette for you to share with friends while drinking Korean soju JINRO:
Don't pour JINRO into a cup that is not empty.
If someone pours JINRO for you, you pour back for them.
Hold the JINRO bottle with two hands to pour it.
When drinking JINRO, turn your head 15 degrees away from the older people.
As you can see, pocha is a unique experience, so I recommend trying to organize it at home with friends, especially when it is so easy to find the main element for it – JINRO soju.
For more information, visit hitejinroph.com and follow JINRO Philippines on Facebook and Instagram.
If you guys are interested, you can find the products by checking out this link below for more information: https://hitejinroph.com/