10 Types of Scarves You Need to Acquaint Yourself With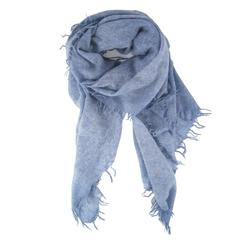 Well, the most fashionable accessory you own comes in many different prints and patterns. If you're looking for a way to classify scarves according to a particular size or style, then you're at the right place. We have categorized different scarves according to the fabric used and the various patterns, prints, embellishments, and trims attached to them.
Cotton scarf: Voile is a lightweight cotton material with which scarves are made. A cotton scarf is your best friend in summers. Since the fabric is so lightweight and breathable, it absorbs perspiration and makes you feel like you don't have anything around your neck at all. Not only scarfs, but one can also find man caftan in cotton in different prints.
Chiffon scarf: A chiffon scarf is again lightweight but is a more fluid material that doesn't get crushed easily. A good scarf to tie around the neck without worrying about too many creases. Chiffon scarves look great with lace trimmings.
Net scarf:  Net is a very nice fabric only if the correct net is chosen for it. Tulle, a fine fabric is the best to make scarves. Net can be very tricky because many other variations apart from tulle are scratchy. However, a perfect net scarf is great for evening parties.
Silk scarf: Silk is an expensive fabric which is why if worn around the neck, make a statement. Silk scarves feel soft and look luxurious which is why they are the perfect choice to wear on a formal or semi-formal occasion. One can check wholesaler silk scarf for a variety of prints and styles.
Cashmere scarf: Since we are talking about luxury, ultimate luxury looks like a cashmere scarf. To get hold of an original cashmere scarf is difficult, but if you do, be prepared to shell out a good amount of money for it. Cashmere is a material that needs to be taken care of, as well.
Velvet scarf: Velvet is a heavy material that makes it ideal for a thin scarf to be worn around the neck with a long coat. A red velvet scarf is a must-have for every wardrobe.
Plaid scarf: A plaid scarf is the most ideal winter accessory you could ask for. The chequered pattern adds to the look of any monochromatic sweater while keeping you warm.
Woolen scarf: A woolen scarf from the store can actually oomph up your boring coat but nothing feels better than a hand-knitted one by your mom or grandmother. It might not look as trendy as the ones in the mall but they ward off cold and cough better than anything around the neck.
Fleece scarf: Fleece is a thick fabric which is great for blankets, which again, makes it a great scarf material for winter. Fleece can be cut easily and looks great.
Bandana scarf: A printed bandana which is mostly funky can look great as a scarf. If you're wearing one with formal attire, you will definitely stand out. However, wearing it to college or a casual day out with the friends along with a cap will look really cool too.