5 Things That Can Influence Your Business Loan Interest rates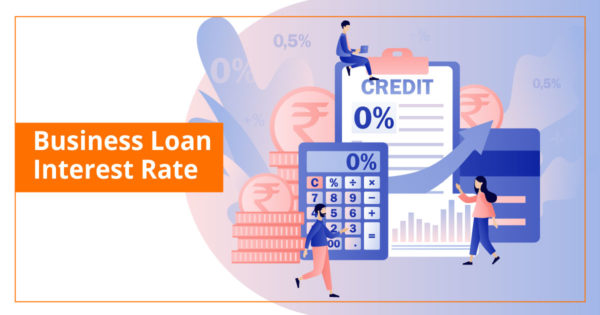 As per the TransUnion CIBIL report, the commercial lending in India reached Rs.74.36 lakh crore in March 2021, registering a growth of 0.6% y-o-y. The reasons can be attributed to easy credit availability, simple eligibility, etc.
However, it is the business loan interest rate that determines its affordability. Hence, business owners need to know the factors influencing interest rates to ensure that this borrowing option does not add to debts.
Top 5 factors influence business loan interest rates
Both micro and macroeconomic factors influence business loan interest rates. Following are some of them:
Business type
The business loan interest rate also depends on its type. For instance, some businesses are manufacturing-oriented while some are service-oriented. Selected businesses carry high-risk factors. In such cases, lenders impose lower rates to cover the cost of lending.
Almost all financial institutions offer business loans to self-employed like doctors, CAs, business owners and entities. However, small businesses need to meet all the eligibility criteria to secure a lucrative interest rate on business loans.
Credit score
Lenders assess credit scores of both applicants' and companies before sanctioning a business loan. While the credit score of a company should be a minimum of 685 or higher.
A credit score is a vital aspect that lenders consider while deciding the business loan interest rate. Since a high score indicates better credibility and ascertains lenders about timely repayment, it fetches affordable rates.
However, clearing your existing debts faster and paying credit card bills on time are some things you can do if your business credit score is low.
Business financials and vintage
Regardless of the size, a business needs to maintain a clear balance sheet of loss and profit to prove its creditworthiness. Typically, lenders ask for a business plan while extending a loan. Hence, individuals need to curate a solid business plan which gives an idea of the future turnover and growth potential. This is why every SME needs a solid financial plan, especially.
Besides, lenders offer better interest rates to businesses with higher vintage. Usually, if a business runs for more than 3 years; lenders extend a business loan at a competitive interest rate.
Loan amount and tenor
The loan amount and tenor also decide the business loan interest rate. For instance, for a higher loan amount, the risk of lending is greater for lenders and therefore imposes higher rates and vice-versa. Hence, before applying for this credit, you should decide the loan amount carefully to avoid over-borrowing.
On the other hand, the tenor also plays a crucial role in interest rates. However, if you want to reduce the overall interest burden, you should choose a shorter tenor to manage higher EMI payable.
You can also use a business loan interest rate calculator to adjust the tenor and loan amount and arrive at a feasible monthly payable. This online tool also allows you to compare different lenders so that you can choose the best rate.
Selected financial institutions like Bajaj Finserv offer business loans at competitive interest rates. They also offer Flexi Business loan, which enables borrowers to withdraw money from a pre-sanctioned credit limit multiple times. Moreover, the interest is charged only on the amount utilised or withdrawn. Hence, the overall interest payable remains low.
This NBFC also provides pre-approved offers that simplify and expedite loan processing. These offers are available on various financial products like business loans, personal loans, credit cards, etc. Enter your name and contact number to check your pre-approved offer within seconds.
Market factors
Besides, business loan interest rates also depend on several macroeconomic factors like repo rate, inflation and like ones.
For instance, RBI uses repo rates to control the liquidity in the market. When the repo rate is low, the interest rate will become affordable. Similarly, during inflation, the prices of services and goods increase, reducing purchasing power of borrowers. In such cases also the interest rates goes up.
Hence, these are the most crucial factors that determine business loan interest rate. However, individuals need to plan the repayment beforehand to clear the debts faster, irrespective of the rates.