Four Reasons Why Facebook advertising is Important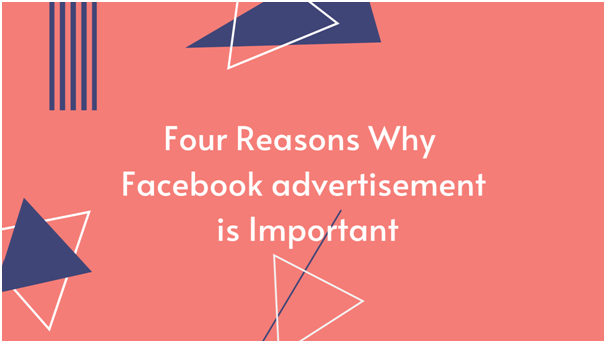 Although some business owners prefer to invest in traditional methods of marketing–in the current age of technology and digitalization, it is imperative to take the opportunity of getting into digital marketing. From online working to online classes to online shopping everything is done through the internet. Nowadays most of the population of the world is in some ways connected to at least one form of social media. So, it is a great opportunity for the companies to do their advertisement through Facebook and Instagram. Some companies are using Facebook, whereas some are going for Google and Twitter advertising. While all of them serve their purposes, Facebook advertising essentially sets the standard for the paid ads industry.
Companies are increasingly relying more on Facebook advertising. Facebook advertising is one of the most effective ways to grow the business in the market and also helps to sustain the competition. If your company wants to be in touch with potential customers in your industry, it may be important to consider opting for this marketing strategy. There are many benefits provided by social media advertising to companies. Let's have a look at them.
Global reach: Facebook ads is the type of advertising that has a global reach. There is no longer a need for you to travel from one place to another to promote your company. Your company is able to build connections with your potential customers through the means of Facebook. This means that you are able to connect with potential customers around the world for the cost of a few cents per click. Facebook ads in other words, is your opportunity to bring your brand global through the internet. Grabbing the attention of the world allows you to build client connections around the world
Cost-effective: Earlier the company needs to get the advertisement published in newspapers, magazines, or pamphlets. These media were further distributed among potential customers through a lengthy and ineffective cold outreach cycle. Facebook ads has streamlined this outreach process and made advertising extremely affordable. With continued optimization and correct audience selections, it is not common for companies to get leads for as little as less than a dollar. Keep in mind, this is really significant because each click to your website is the equivalent of an actual person visiting your store. Your company needs to create a good advertisement framework that can attract customers, with an intention to continuously optimize until your campaigns become perfect. Using Facebook ads, you are able to reach millions of potential customers and greatly expand your brand persona.
Target audience: Facebook online advertisement helps you target the right audience that represents the potential customers of your company. This differentiates from traditional methods of ads, which rely on dataless cold attempts at the right placements. There are various tools used to do online advertisement, they make the advertisement appear on the audience screen that are likely to purchase the product or service. Facebook ads is an easy way to reach out to the people likely to buy your products/services. This will help your company take the necessary steps to attract even more customers.
Engage with more customers: Many companies are using the Facebook platform to push out advertisements in which customers give their polls and /or suggestions. This provides a valuable opportunity for brands to receive feedback as well as engage with their potential customers/existing clients. Simply having a Facebook/Instagram presence will give you opportunities to engage meaningfully with existing and potential customers. It is seen that many companies are following the advertisements, in which the customer has to give their polls or suggestions. This will give a better idea about the audience and even the internet is the best platform on which the company can know what type of products and services are more in demand.
Your competitors are likely plugged into digital marketing; however, if they aren't this can be used for your business's advantage. For instance, imagine that two businesses were competing for the same clientele: Business A and Business B. When prospective customers went to compare which brand to choose, they made a Google search and found that only Business B had an online presence–leading them to have greater trust in Business B and choose them. Cases as such demonstrate the greater credibility a business creates by establishing themselves online. Ultimately, using online marketing makes you appear more reliable, more authoritative, and makes you more likely to be the number one choice in a customer's decision making process.
You don't have to go at it alone, for assistance in your social ad campaigns, you can even utilize professional tools such as Stiddle. A tool that was created to help business owners like yourself get into social advertising. The great thing about Stiddle is how easy it is to setup and optimize your ad campaigns, landing pages, and customers. There are other platforms out there as well to help run your online ads, but we've found Stiddle to produce the best results for the best price. If you are interested in a free trial from Stiddle, check them out Here.