Give a makeover to your balcony with these easy tips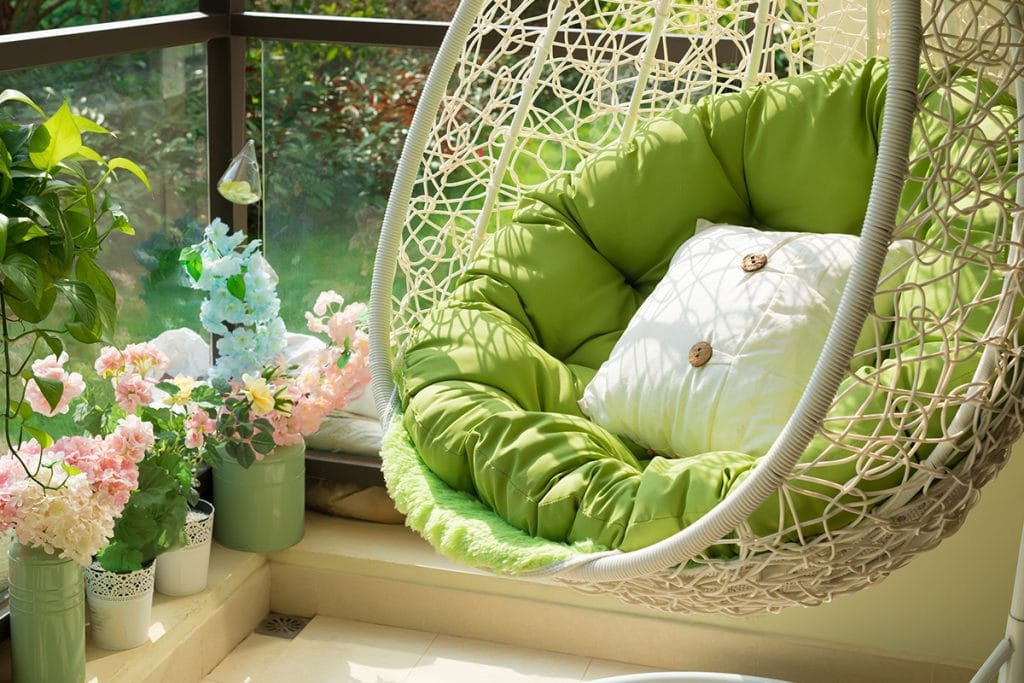 The best part of old days houses were their open space, garden and verandah where we could sit and relax, talk to family members. Some fresh oxygen, greenery and always give us pleasant vibes. But in the metro cities, you can hardly afford any open space or a garden for yourself. The buildings are tall but they don't provide us area on the surface of earth where we can have quality time to relax, roam and enjoy the nature. All we get is a balcony that connects us to the outside world and gives us some space to show our creativity with greenery. But a balcony can be much more than an outer part of your home. It's up to you how and what you would like to use it for. So here are a few things that can interest you to change the look of your balcony forever.
A small garden: The first and foremost idea that comes to our mind for a balcony makeover is making a garden. We can grow flowering plants, runners, climbers, herbs, ornamental plants and many more according to the space provided. You can also give it more green look by adding an artificial grass mat. Adding some beautiful plant pots, hanging pots and standers can enhance the look as well.
A sitting area: if you are one of them who doesn't find it happening to sit in the four walled room, and find some open space for you then your balcony can be the one place in your home itself. Put a decent carpet, small furniture, a small round wooden table, some indoor plants here and there, some cushions and bohemian paintings on the walls. Add some lights to brighten up the place even in night. And there you go with a pretty little sitting place for yourself where you can do whatever you want, enjoying the outside view.
Tea and Coffee space: our tea and coffee breaks are valuable. One can't hamper these quality times no matter what. You wouldn't want to enjoy your tea or coffee if you don't like the place you are at. If you want to have a refreshing tea and coffee break for yourself then make your balcony the place for it. You can do everything to make it a sitting area same way as it's written above and use it accordingly. You can also install a small set up for your tea and coffee by keeping a vending machine in a corner. This can be an impressive way to treat the guests as well.
Reading room: A balcony can be converted into a reading room too. Some indoor plants, a tall corner book shelf, a small study table and a chair would make it over for the perfect study room. We generally prefer to read in a peaceful place. So if your balcony is not towards a noisy region then you should give an attempt for this.
Barbeque Destination: Are you a food lover who would do anything to try every cuisine? Then why spend a lot of money in the big restaurants when you have a balcony to make the set up? Just get the barbeque kit from a reliable shop and set up your own barbeque joint where you and your family can enjoy barbeque and chill out!
Space for candlelight dinner: on your anniversary, or on Valentine's day, if you feel like having a cozy celebration at home then you can easily turn your balcony to a romantic candlelight spot within no time. Just keep a round table and a pair of chairs, or even do it with some cushions and carpets, add some fairy LED lights, turn on some good romantic music, get your dinner on the plates and get ready to celebrate your day in the most romantic way.
Selfie Zone: your balcony can be the selfie zone for you and all the people who visit your home if you can give it a makeover. Because in the balcony you will get natural light which will increase the photo quality. Add paintings, framed pictures, mirrors, plants, hanging lights, and artificial plants by ordering online flowers from MyFlowerApp.Com which enhance the look of your place to a great extent. Take selfies at the best corners and flaunt with your near and dear ones.