My Child Is Finally Eating Some Healthy Food Thanks To My Cuisinart Food Processor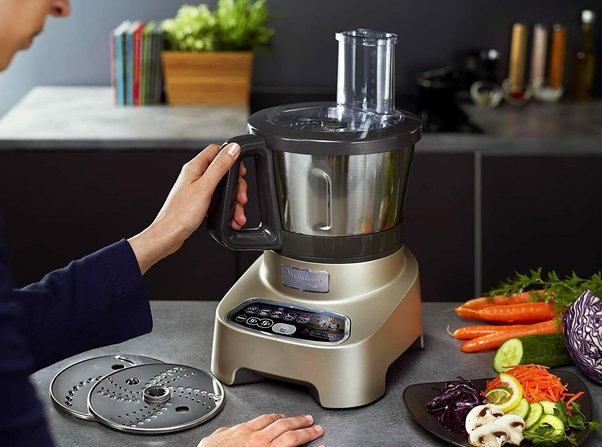 As far as I understand, most parents can commiserate with my issues of my kids not wanting to eat anything healthy, aside from fruit. If I'd allow it, my kids would live on macaroni and cheese, chicken nuggets and peanut butter and jelly. It's pretty gross.
Then I was in a parents chat that I belong to, and someone dropped a major hack on me: Soups and smoothies to get kids to eat some healthy foods. I kicked myself for never having thought of it before. It sounded like such a great idea.
I decided to have a one on one conversation with the parent that brought this idea up, just to see how she went about doing all this. She said she initially started with an immersion blender, but once she nailed down what her kids liked, that wasn't cutting it for making larger batches, for both soups and smoothies.
She revealed to me that she did both with her food processor, which came as a shock to me. Mostly because I had never even considered the option. I wasn't a big food processor user, although I did have one. She gave me a few of her recipes that were favorites of her kids.
So I pulled out my Cuisinart food processor to see what kind of shape it was in. I only had one blade, but honestly couldn't remember if I had more than that with it. The blade itself looked fine, but if I was going to commit to this then I'd need more than just that.
I reached out to the other mom again, to see if she knew where I could get more blades, if that was even a thing. Luckily it was. She recommended KitchenWorksUSA, and explained that they sold Cuisinart 14 cup food processor parts. I quickly got on it and ordered myself some new chopping blades, along with a grating blade as well.
When it all arrived, I was beyond anxious to get started. I had recipes and ingredients all ready to go. I spent one full afternoon doing everything. I experimented with 2 recipes for soup and 2 recipes for smoothies.
Both were loaded with veggies. The smoothies made it easier to mask those, obviously due to the fruit content. The soups were a bit of a different story, but with the right herbs and spices, I knew the kids would enjoy them.
I figured we would stick to smoothies for breakfast and soups for lunch, and hopefully we'd be able to enjoy a regular dinner. For the first experiment, everything went well. The kids of course loved the smoothies and had no clue that there were any veggies in them whatsoever. Thank goodness for berries making them a nice dark color.
The soups went surprisingly well too, regardless of color. They had always enjoyed different kinds of soups, so I was pretty optimistic about this idea. So far each recipe was a success. I was excited to try more, but I was also keeping these in my back pocket since I already knew they worked.
One of the coolest things about this is that I can make up large batches and freeze them, which gives me the opportunity to experiment with other recipes in the meantime. Plus, if I don't have the time one week to make all the new batches, I can totally get away with it since I already have plenty on hand.
Recently, my kids have caught on to what I'm doing, but it hasn't made a difference. I was so surprised at that, but we've also been discussing the importance of nutrition. This idea has certainly been the gateway to having these conversations, and I'm super thankful for the idea and that it's been made easy by my Cuisinart food processor.