Simple Tips to Select the Right Air Cooler to Battle the Summer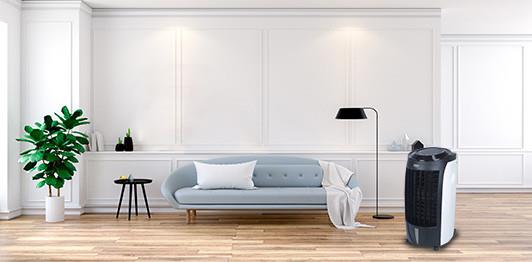 Air coolers are one of the best cooling devices for regions that face dry summers. Air coolers are popular in India as they are economical and also eco-friendly.
Still, when it comes to buying one, picking the right air cooler can be a little confusing. Hence, here is an article that will showcase some factors that will help you buy the right one.
How do air coolers work?
Air coolers use evaporative technology, and they have a basic air cooling process which is nothing less effective than AC systems.
Air coolers use a simple air moving system to pull fresh outside air and pass it through the water-soaked cooling pads.
As a result, the evaporation of water in cooling pads brings down the air temperature. It is then blown out by the fan to provide with cool air.
Types of air coolers
In India, there are two types of air coolers that are popular – personal air coolers and desert air coolers. They are used in different climatic conditions to tackle the heat.
Desert air coolers are generally used in dry climate areas. They are bigger in size than that of a personal air cooler and are meant to cool a large room. They have bigger water tanks and deliver cool air to all corners of the room. They can be handy if you want them to be used in the backyard or on the terrace. You can find Symphony air coolers, Volta's air coolers and more brands offering these types in the market.
Personal air coolers are preferred in areas with humid weather conditions. They are to be used in smaller rooms. They use less power with quieter performance than that of a desert air cooler. Although they come with smaller tanks but are able to offer to cool for long-lasting hours.
Tips to consider for selecting a correct air cooler
After you have decided the type of air cooler that you would buy, it's time to consider some other key factors to make the right decision.
In the market, you would be able to find air coolers with varying sizes and water tank capacity. Hence, you should pick one as per your needs. Both personal and desert air coolers come with a wide range of water tank sizes. Personal coolers may have a capacity of 20 to 30 liters, and it may be 31 to 50 or more for desert coolers.
Here is another factor that will help you choose the right Crompton air cooler and others. It is none other than the area that you wish to be cool. If you have a large room, then purchasing a personal air cooler may not work. What's more, it may also strain the machine to consume more power leading to higher electricity bills. Hence, for a large room, buying a Kenstar air cooler or any other is apt. On the other hand, a personal cooler is suitable for smaller rooms.
In today's air coolers, you can see two types of cooling pads such as the Aspen and Honeycomb. The selection of cooling pads also has a significant impact on the cooling of your air cooler. Aspen cooling pads are made of wood shavings and synthetic fiber, and hence, they are affordable. But, they need high maintenance and have a shorter life. Honeycomb pads are thicker than aspen pads and have a larger life along with lower maintenance. They may cost a little more but are also known as more efficient in the longer run.
This summer, buy air coolers on EMIs and let savings galore
There you have it, a quick guide that will help you select the right air cooler for your needs. If you are ready to buy one without budget concerns, then you can make the most of the No Cost EMI facility provided by the Bajaj Finserv EMI Network.
As a result, you can just spread the price of an air cooler over a tenor and pay only an exact EMI and nothing extra. This way, you can save on what you would have
How to buy air coolers on EMIs
Go to any of the 60,000+ local outlets across the Bajaj Finserv EMI Network in 1300+ Indian cities and towns
Choose a Symphony air cooler, Crompton air cooler or any other brand as per your choice and swipe the Bajaj Finserv EMI Network, Card
Walk away with your purchase
You also have the freedom of submitting a canceled cheque along with the KYC documents at a partner store to avail quick financing to shop on easy EMIs. You can do that when you don't have the Bajaj Finserv EMI Network Card.