Take a Look at the 2023 Ford F-150 Pickup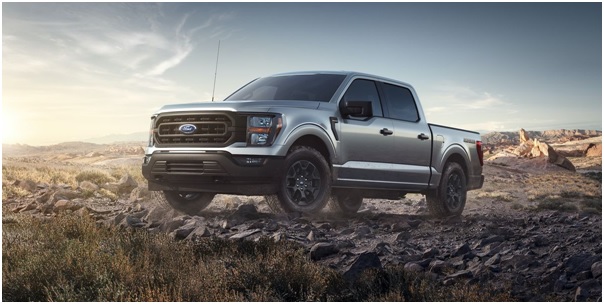 When it is about pickup trucks, Ford F-150 comes first in the line. The 2023 updation of this vehicle has added more power to it and made it more promising for excellent performance. The addition of Rattler in the Ford F-150 lineup has a better off-road capability with much more great specs. Want to have a test drive? Then get in touch with Cottonwood Ford dealer. However, first look at the features of the 2023 Ford F-150 pickup vehicles.
Features of 2023 Ford F-150 Pickup
The important features you should know are as follows:
The 2023 Ford F-150 comes with different engine options. These are:
3.3 litre 290 horsepower V6 engine
5litre400 horsepower V8 engine
2.7litre325 horsepower twin-turbocharged V6 engine
3.5 litre 400 horsepower twin-turbocharged V6 engine
3 litre 250 horsepower diesel V6 engine
The engines come with 10-speed automatic transmission which is responsible for newimpressive performance. In addition, its performance has been accelerated by selectable drive modes. It instantly enhances the stability and traction control system in different terrain types.
There is a lot to discuss regarding the capabilities of the 2023 Ford F-150. The driver-assisting system has already gained immense acknowledgement. The modelis all muscled up with 14000 lbs towing capacity to give backup in any situation. The body of the Ford F-150 model is built with lightweight alloy for highstrength and increasing payload. For example, from a 5.0L Ford V-8 model you can get a 3310 lbs payload.
The 2023 Ford F-150 lineup has Raptor and Raptor R specially designed to handle dessert and thick terrains with better off-roading capacities. Besides, Ford BlueCruise has hands-free driving technology for highways with intelligent stop-and-go, speed sign identification features and many more. Altogether, the 2023 Ford F-150 lineup is all about a better driving experience with power-packed amazing features.
Interior, Exterior and Cargo
Ford F-150 2023 has a spacious interior with more room for work. You can have a broad work surface enough to put your laptop on by moving the gear shift and unlocking the central console. Besides, the seats are comfortable stylish and durable for your active party. No doubt, the leather-trimmed seats add a charm of sophistication to the model.
The folding front seats are perfect for creating more cargo space inside the cabin. Moreover, the exterior of the model is built with a military-grade, high-strength, alloy body for better loading capacity.
Apart from these three major features, some other attractive aspects are:
Pointing out the security features the 2023 Ford F-150 comes with a highly efficient pre-collision assisting system that can save the car at anytime. If any collision situation happens automatic brake will stop the car without the driver's action. In addition, the model also has dynamic bending headlamps with an LED projector for better visibility. The long-lasting illumination is bright enough to help you see every curve of roads effortlessly at nighttime.
Talking about its fuel economy, test drives show that the 2023 Ford F-150 with a v-6 2.7-litre engine can cover up to 26 highways and 20 mpg city. Similarly, a V-6 3.5 litre twin turbo engine can cover up to 24 highways and 18 mpg city. However, the fuel economy of the 2023 Ford F-150 is still under observation.
Feeling convinced about buying the 2023 Ford F-150? Pay a visit now to Cottonwood Area Ford dealer and get a chance to know more about this vehicle. By analysing the features it is clear that the models can be great choices for people who need sturdy vehicles with style and comfort.