Industrial RO Plant: A Smart and Healthy Business Solution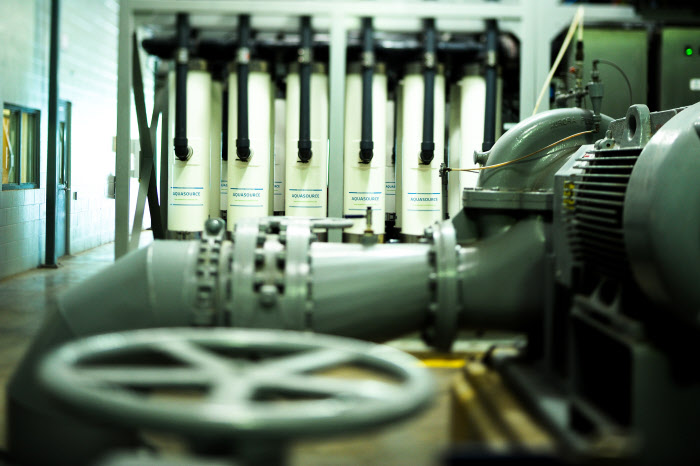 Since people have become more health conscious than before, and the level of contaminants in the water is ever increasing, it has become all the more important for residential as well as industrial consumers to purify their supply of water. A residential water purification system is enough for a household, but for industrialized businesses that have higher water usage and requirements, an industrial RO plant makes more sense. Let's find out more information about these water purifier plants.
How Industrial Water Purifier is different from a residential one
An industrial water purifier plant is specifically designed to purify vast amounts of water at once. It can purify as much as one million gallons of water per day without compromising on quality. It is designed to remove chlorine, chemicals, toxins, and bacteria from the water just like a residential water purifier does, but at a higher speed and quantity. An increasing number of small and large businesses, including those involved in greenhouses, farms, beverages and other edible products, are installing them to ensure that they manufacture the safest products for their customers. Hospitals, restaurants, hotels, cinema halls, courts, etc. also install these technical level water purifiers to give access to purified water to their customers, clients, and visitors.
Why installing an industrial RO plant is so crucial for businesses?
If you are involved in a beverage related business and if you are using non-purified water for your products, then each product you sell may make your customers sick. Your company will be put directly at risk if the customer gets your product lab-tested and the fault comes in your beverage. This problem can lead to substantial monetary loss, and you would lose much more than the money you saved by not installing an industrial water purifier plant in your business. Since you are responsible for the safety of your employees and workers as well, if someone falls sick due to dirty water supplied in your workplace, you may again fall in a costly lawsuit. Apart from that, think about all the negative reputation you would develop in the industry, as a result of which people will stop purchasing your product in future. In the present competitive market, such a situation can spell doom for your business.
Components of an industrial RO plant
An industrial water purifier plant purifies water with the help of several parts installed inside it. Some of them are:
The water pump that boosts tap water into the purifier for filtration
Media filter that removes turbidity and suspended impurities from tap water
Carbon filter that eliminates odors and colors from tap water
Anti-scales dosing system that prevents scaling in the RO membrane
One micron filter that removes fine particles of size 10 microns
Another micron filter that removes fine particles of size 5 microns
High-pressure pump that feeds water into the RO membrane
RO membrane that removes 98% of TDS from the water
Apart from these components, many industrial level water purifiers have a wide range of in-built features that make operation easier. For instance, some have an alarm system that alerts you whenever your industrial RO plant needs a repair or service. Some have in-built lights that blink when the filters in your RO plant need to be replaced.
Choosing an RO plant for your business
Now that you are in the market to buy an industrial water purifier plant for your business, you have only one chance to get it right. Here are a few things that you must keep in mind while selecting your water purifier. While considering these things, you can be sure that you will not regret your selection later:
Technology: Give attention to the technology that the water purifier uses. Some RO systems even use UV and infrared technologies to get a higher level of water purification.
Durability: Whichever technology it uses, it is essential that the water purifier lasts long. Don't compare the usage of an industrial RO plant with your residential water purifier. Its usage would be much more than the purifier installed at your home. So, make sure that the purifier you are buying is made up of sturdy components so that it can last long.
Capacity: Depending on the size of your business, number of clients visiting your office every day, and number of workers working in your organization, choose a water purifying system that can purify the quantity of water you require for your business regularly. You will find water filters that can clean 250 to 1000 liters of water every hour. So, make your choice accordingly.
Speed: Some RO systems are highly advanced, but they may take a long time to purify the required quantity of water. So, give attention to the speed of the RO plant you are buying.
A smart businessman knows that the health of their customers and workers is too important to put at risk. Installing an industrial RO plant can be a sure-shot way to keep everyone healthy at work and gain a positive reputation in the industry. Choose the one according to the steps mentioned above, and find a healthier way to serve and take care of your people.