Latest Trends in Gold Jewellery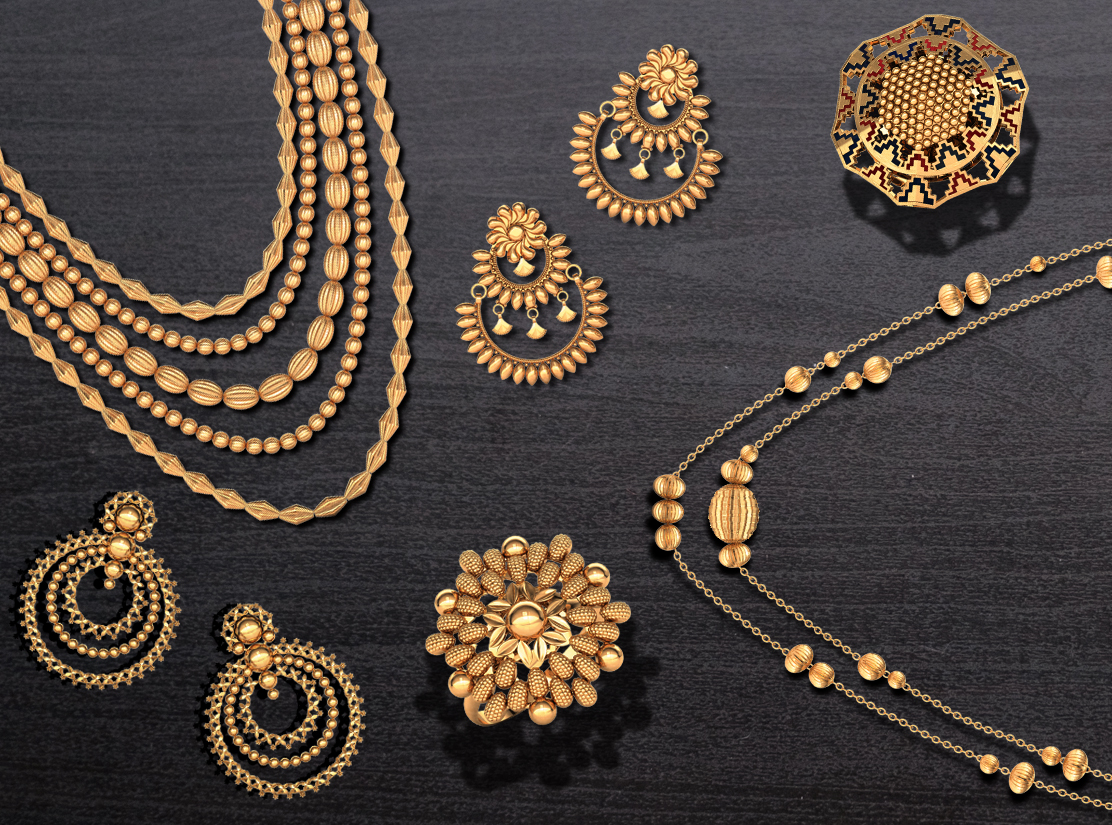 Gold, for the longest time and even today, has been one of the most prized possession of an Indian woman and is something that is usually passed on from generation to generation in the family. As we know, an Indian bride is incomplete without being dolled up in all things gold when it comes to jewellery.
However, a lot of what was once the norm and was tradition is now being redefined by the new generation and a whole wave of new trends in gold jewellery has taken over. Long, heavy gold earrings that once cut through the ears has now been replaced by lightweight gold stud earrings and less is more nowadays. With everything happening so fast, it is easy to get overwhelmed and confused about what you should be wearing and what you should be investing in. We are here to help you and have put together a list of some of the latest trends in gold jewellery which is sure to help you navigate through this ever changing world of fashion where the simple necklace designs in gold that is so celebrated today might be an old story tomorrow.
Lightweight gold necklace sets – the woman of today juggles between both work and home and hence is always on the lookout for jewellery that can match both these lifestyles of hers. Lightweight gold necklace sets fit this box right well as they can be effortlessly paired with office wear as well as works great for any household occasion as wear. With just a chance in outfit, your necklace can go from work wear to puja appropriate very soon.
Chokers – chokers that are made with a touch of emeralds, rubies and corals are very in right now and has become a staple across all the runways. What makes them so well loved and accepted is because they have so much to offer not just in terms of how they look but also the sheer variety of outfits they complement so well. They have a recurring charm to them which works so well with both Indian wear, western wear and even indo-western wear. They also work well for a number of different occasions and are very versatile in general.
Stackable jewellery – also known as freestyle jewellery, it is also about layering and mixing and matching nowadays. We have moved on from wearing just one gold ring to wearing multiple at the same time and really working that look. This style takes inspiration from the bohemian world of fashion but fits seamlessly into the contemporary style of today. There is no rule when it comes to stacking different types of gold bangles or gold chains together at the same time.
Sustainable jewellery – a lot of people are becoming conscious about their consumption and the way it affects nature and have even taken this to the kind of jewellery they wear. Keeping this in mind, jewellery that is made of natural stones or are painted with vegetable oils are being sold in the market today to cater to this segment of the customers of today.
These are just some of the latest trends out there. You must also explore the space and find out new trends that work best for you and that you can easily incorporate in your life. We often get carried away and try to be on board with every trend that is out there in the market but sometimes it helps to take a step back and see which ones are the ones worth incorporating and making a part of your personal style.