Top 7 Ways To Impress Your Special One With Fresh Flowers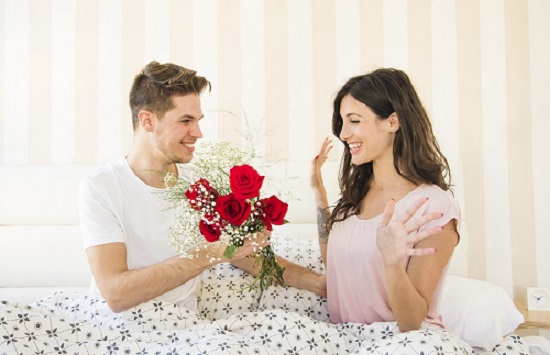 Sometimes, the best way to impress your beloved is by presenting them with a beautiful bouquet of flowers. In fact, it doesn't even have to be an entire bouquet, a single piece goes a long way when it's a beautiful flower with an embracing aroma.
Here are 7 ways that will help you make a romantic gesture towards your loved one with flowers:
– Bouquet of roses
This is where you keep it simple, yet make an impact. A bouquet of red roses is all you will need! Ensure that the flowers are fresh and are wrapped beautifully. Not only will it help you in impressing your beau, but also make it a meaningful present.
Now, it does not necessarily need to be a bouquet of roses. There are other flowers which can make the same impact. The common suggestion is to find out their favourite flower or flowers and make a bouquet out of the same.
In the off-chance that you don't know about their favourite flowers and you're unsure which flowers to put, you should stick to a bouquet of red roses. Red roses are the classic symbol of love, and you cannot go wrong with this!
– Rose petal bath
After a long tiring day, a soothing bath with rose petals and scented candles is all one needs! The best part about this is you can make the entire arrangement without stepping outside. Order for candles and red roses online, and create the bath of their dreams!
You can add other elements such as champagne, their favourite book or favourite music, and turn the bath into a bubble bath.
Be cautious about the candles and remove any type of items that are hazardous to fire.
– The classic dinner date
It doesn't require an entire bouquet of various flowers to impress. You can strike a smile on their face with just a single strand! In this situation, prepare a romantic dinner, set up the dining table for two, and place a strand of a beautiful red rose in the middle.
The colour combination to stick to for this instance is black and white.
However, if you don't want to make this a home affair, you can always book a table at their favourite restaurant and have it set up with flowers and candles. In fact, why not carry a small bouquet of flowers and a gift for them too? Make it the perfect dinner date!
It helps with creating a romantic atmosphere along with adding sophisticated minimalist touch.
A path of petals
Usually, the idea is to create a path of roses. However, why not take it up a notch and create a path of colours? The beautiful fact about flowers is that they come in varying shades of ranging colour palettes.
Create a colourful path with different types of petals. Ideally, you should try to use their favour colours to add the personalised touch. Lead the flower path upto a cosy spot in the house and set up a movie night with their favourite food or snacks, a bottle of wine, and a movie of their favourite actor.
You can place balloons, candles, and other decorative elements on the sides. There's no way you will fail to impress with this idea!
– Surprise flower delivery
A bad day can be fixed with a special delivery! You can order for midnight flower delivery in Mumbai or any other city and have a bouquet of gorgeous flowers delivered to their doorstep.
Add a special note filled with affection and love. Words and flowers are the best combinations to lift someone's spirits!
If you want, you can have an entire box with flowers, chocolates, snacks, and a card delivered to their doorstep. Not only will it cheer them up, but also give them a midnight snack to munch on while they watch their favourite series!
– A morning amazement
Decorate an entire room with flowers, chocolates, and hand-written cards for them before they wake up. There's nothing better than waking up to a roomful of flowers and loving words. They start the day at such a great note that nothing stops them conquering any obstacle coming their way!
Additionally, you can make them breakfast in bed. That's just the perfect start to a morning, and since it's a surprise, they'll start the day with a huge smile on their face.
– A rose centerpiece
This is a classic but it works every time. However, add a twist and make a centerpiece out of various roses instead of sticking to just one colour.
It helps with brightening up the room and words like a charm! The point to keep in mind here is to have enough water in the vase for the flowers to remain fresh for a considerable amount of time!
You see, flowers are a good way to impress your sweetheart. It worked for your ancestors, it will work for you too!