Why Purchase 2022 Acura TLX?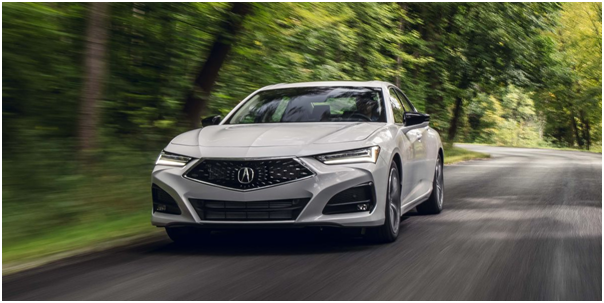 The design along with a sufficient powertrain is why more people are inclined to purchase 2022 Acura TLX. It offers a premium look along with a value proposition is why you should check this vehicle out quickly.
It comes with different powertrains, stylish looks, and more. If you want to get behind the wheels to test this vehicle, then opting to go to Henderson Acura dealership can make that happen for you. Now take a look at this premium vehicle a bit.
Exterior
The exterior portion of 2022 TLX offers premium aesthetics due to its design, shape, and glossy paint job. With sharp led headlights and a diamond-shaped frontgrille gives it the uniqueness a vehicle of this stature should possess.
The four-door layout along with a long snout under which the engine sits make it look no less than certain other vehicles from the premium category. Also, the back portion of this vehicle makes it stand apart due to its stylish backlights and dual exhaust system with four exhaust pipes (two on each side).
The entire design of this car ensures that it can be distinguished from a distance and offer a classy vibe that every premium vehicle offers when driven.
Interior
It consists of an expressive design that looks outstanding and matches the sophisticated yet sporty aspect of the exterior portion. This automobile is equipped with an attractive and prominent rotary selector for drive modes and analog gauge system. The impeccable build quality is what ensures that people feel the supremeness of this car. Moreover, the 2022 TLX provides better build quality than its earlier generations that involves real aluminum and wood accents.
Also, this sedan is spacious and offers ample space for a back seat. Its remarkable forward visibility and front seat adjustments allow a pleasant experience for drivers. In addition, the interior comes with a plethora of colors, leather upholstery, and other desirable features. Customizable interior lighting, large head-up display, etc. are some of the features that you can enjoy significantly. You can check it out in detail after reaching Henderson Acura dealer.
Powertrain
Apart from the appealing and premium look, this vehicle has a powerful powertrain that makes driving this car fun for all. The standard option is a 2L turbocharged engine that provides 272 horsepower, while the 3L V6 produces 355 ponies. Both engines are mated with automatic 10-speed for swift gear changes.
Though the turbocharged is a powerful engine, most want the V6 to feel its extreme power that will send a thrill of excitement throughout a driver's body. The regular TLX will provide 22 mpg and 1 mpg, while the V6 gives 19 mpg and 25 mpg in city and highway respectively.
Price of 2022 TLX
The base model starts from $38,745, while the Technology and A-Spec cost $42,745 and $45,495. Lastly, Type S costs $53,845. If you want to enjoy every premium feature and more power than you can imagine, then Type S is an ideal choice for you.
Hence, take a test ride before getting all the paperwork done for your new premium sedan 2022 Acura TLX.