Here are the Best Free Android Browsers of 2019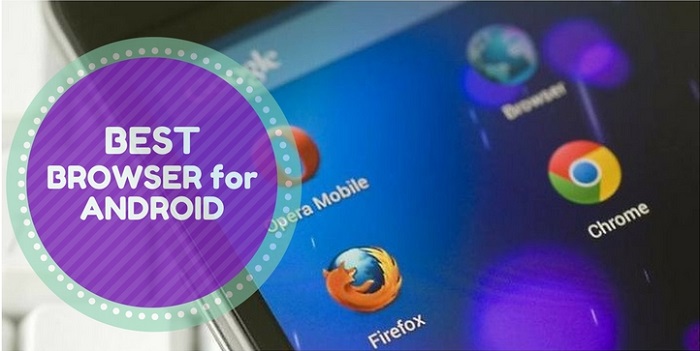 When you purchase an Android, the sky's the limit. Androids are super flexible, allowing you to extend its functionality with apps and settings. You have the ability to customize your device, making it personal and a powerful tool for productivity and play.
Although Androids are great, they're not indestructible. If you are having an issue with your device, you can attempt to fix it yourself or you can bring it into a local shop for iPhone repair. That being said, here are the best free Android apps for 2019.
Android's Best Free Browsers
Android allows you to set any browser you choose to be the default browser on your smart device. This means there is a large availability of third-party browsers you can find in the Google Store. Which are the best?
Also Read: Why to Use 9apps Than Other App Store
Google Chrome, Firefox and Opera will prove to be the best browsers if you are looking to synchronize your desktop browser with the browser on your device.
Google Chrome for Android
Google Chrome is built into many Android devices, and for a lot of users, this will be the browser of choice to use on your smartphone.
The Android version of Chrome syncs with your desktop browser (provided you have Chrome as your desktop browser of course), has a data saver feature, and a built-in password manager. However, using Chrome gives Google even MORE ways to track your activity, and lacks the wealth of extensions that Firefox offers.
Opera for Android
Opera is another great free app you can use that is lighting-fast and great if you are looking to save data. If you use the desktop version of Opera, this app will fit in nicely with your computer ecosystem, because it syncs. It offers Ad-blocking, and on the desktop version there is a built-in "VPN." (This might be better considered as a proxy server because it only works when the browser is on.)
On the other hand, Opera can be a little confusing to use. There are menus at both the bottom and top of the screen of the Android app. That being said, Opera will be one of the fastest browsers you can use and its data saving feature is great.
Firefox for Android
Firefox is a nice alternative to Google. Again, it syncs with Firefox desktop, and it's support for extensions makes it a feature-packed choice. If you're a fan of content, Firefox has some great content recommendations and integrates directly with Pocket.
The downside is that with Firefox, you'll need to install some extensions that accomplish features you will find built into other browsers.
Also Read: How To Become The Best Android Developer?
However, if you are a fan of customization, you can tweak Firefox to an amazing extent with different extensions and themes. If you're a control freak (which can be a good thing!) that wants to choose what color everything should be, how your tabs pop up in your browser, and which features you would like to use, then you might be interested in looking into Firefox.
If you have security concerns online, you can check out Firefox Focus. It trades some of the functionality of the original Firefox Android app for privacy protection. You can also experiment with Firefox for Android Beta
Supplementary Browsers
Flynx Browser
Flynx is an Android application that will work well as a second browser. Although it is somewhat limited when it comes to features, it's got a pretty cool "link bubble" function that can make reading links easier.
Click a link in Flynx and it will open in a bubble off to the side of your screen. It will remain there until you are ready to read the content in the link. To expand it to full-screen, tap on the bubble.
This might not sound groundbreaking, but it can come in rather handy when you are browsing and need to open a bunch of tabs. Instead of a new link taking up the entire page you are currently reading, Flynx lets you continue reading your original article and read the secondary link later.
This can be a great time saver when you need to open a number of tabs for browsing in your device browser.
Additionally, you can double-tap any link which will add it to its offline reading function.
While these features are useful, Flynx really shouldn't be used as your main browser. It functions as a link opening and offline reading tool, so there is no address bar. In fact, there isn't even an option to launch into the browser without you having to click on a link.
Read Also: How Android Development Company India is Useful One?
What's more, sometimes Flynx will fail to display a web site properly. While this isn't a constant issue, Flynx offers you the option to open the website in a fallback browser you can select in settings.
Puffin Browser
The Puffin web browser focuses on security and speed by sending encrypted data to its data centers in the U.S. The fact that the data centers are housed in the United States poses two problems – if you use Puffin in other countries, your geolocation will show up as the U.S. which could potentially block you from some content you might want to access locally.
Additionally, the United States isn't the most privacy-friendly country. If the government chose to, they could easily order that Puffin turn over its data logs, rendering the VPN mode it offers useless.
That being said, a built-in VPN, the ability to save data on most pages, support for Flash and speedier page load times are all features that may make the app worth investigating.
As this is an article on the best "free" Android browsers, note that Puffin's free version requires that you consent to always-on location tracking. According to the company, this data is anonymous (but still used with third-parties) to improve ad relevance, search results, and maps.
If you feel uncomfortable allowing this permission, you can buy Puffin Browser Pro for $4.99, which will also rid you of online ads.
It might not be as feature-packed as Chrome, Firefox, or Opera, but Puffin has some unique touches. There is gesture support when you view full-screen videos. This allows you to adjust brightness and volume and scrub through the timeline without disrupting playback.
Some users may find the virtual gamepad and trackpad that you can pull up as an overlay on Puffin browser useful as well.